Palliative and Emergency Care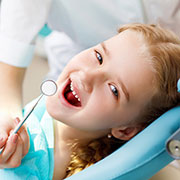 We will work with your schedule to see you when you have a dental emergency. Whether it is a broken tooth, a broken denture, or pain and swelling from a dental infection..we are here to help. We are a full service dental office: we perform root canal treatments, oral surgery, repair of dentures and restorative dentistry.
Root Canal Therapy
Inside each tooth is the pulp which provides nutrients and nerves to the tooth, it runs like a thread down through the root. When the pulp is diseased or injured, the pulp tissue dies. If the pulp is not removed, your tooth could get infected. When this infection goes untreated, you could develop a swelling and/or lose your tooth. If the tooth is restorable, the solution is root canal therapy. The dentist removes the pulp, and the root canal is cleaned and sealed off to protect it. Your tooth will need a permanent restoration, usually a crown, once root canal treatment is completed. Root canal therapy is a simple procedure with little or no discomfort.
Sedation Dentistry
We understand that fear, anxiety or even a strong gag reflex might have prevented you in the past from getting comprehensive dental care. We have a visiting board-certified anesthesiologist to provide Monitored Anesthesia Care (MAC). Unlike oral or even some IV sedation, MAC allows a more natural and complete state of tranquility. Your sleep will not be interrupted and you will not have any memory of the procedure. Your safety is assured by an experienced anesthesia provider who will always remain at your side and monitor the entire process.
Inhalation sedation by nitrous oxide (laughing gas) is available at the office as well.
Bruxism and TMD
Bruxism, clenching and grinding of the teeth can be caused by stress and anxiety, sleep disorders, abnormal bite, and missing and misaligned teeth. Other symptoms may include a dull headache or sore jaw. Severe grinding can lead to fractures of your teeth and treatment may include root canal therapy and crowns. Occlusal splints (night guards) can often alleviate grinding or clenching, and eliminate the possibility of fractures occurring.
Occlusal disease develops when upper and lower teeth do not fit together properly. Grinding teeth can make this problem much worse. Even in the absence of pain, the uneven bite is affecting tooth structure, bone, roots, gum tissue, and jaw joints. Excessive wear, cracks, fractures, tooth movement, sensitivity, and gum disease can all be part of the occlusal disease process.
With appropriate therapy, tooth wear and premature aging of the mouth can be minimized. The highest standard of care consists of customized treatment, appropriate to the individual patient's circumstance. Treatment of occlusal disease may include one or more of the following: bite splint therapy, equilibration (reshaping of the teeth to fit evenly together when biting), orthodontics, and replacement of missing teeth or restoration of damaged teeth. Diagnosing and treating occlusal problems is essential to optimal health, maximum comfort, and dentistry that lasts. Having a smile redesign or "cosmetic makeover" that is beautiful is not enough. Teeth need to function properly for long lasting results.